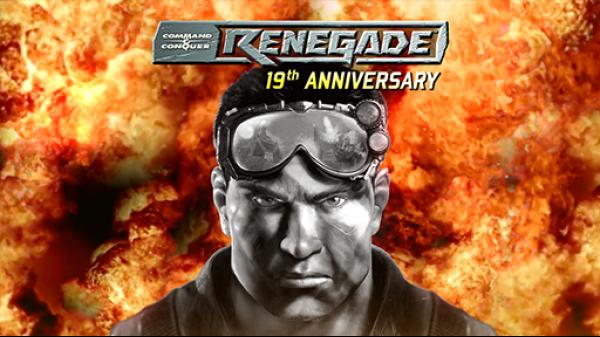 Dear friends, commanders, brothers, sisters, comrades, and generals.
We got a present for ya.
Command & Conquer Renegade is turning 19 years old on Saturday the 27th of February and the community is planning a week of game night events to celebrate!
What is Renegade?
Renegade is the black sheep of the Command & Conquer series. It is a game that embodies all of the tenets of a regular C&C game, but played out from an unfamiliar perspective. Despite this rapid departure from the classic real time strategy tenets of classic C&C games, it is still beloved by fans of the series for it's wholly unique take on the multiplayer shooter genre.
C&C Renegade is a game where two teams aim to destroy each others bases using the infantry, tanks, superweapons and more. It is based on the first C&C game, Tiberian Dawn, but contains a whole plethora of extra characters and weapons to wage war against your opponents with. Players must defend their economy in order to purchase better characters and vehicles, which echoes the same gameplay loops that can be found in the classic C&C strategy games.
The singleplayer mode of the game follows the exploits of a commando, Captain Nick "Havoc" Parker, as he attempts to foil a plot set into motion by the Brotherhood of Nod and their insidious leader, Kane. Although the singleplayer had some issues and was met with a tepid response at the time, it is the multiplayer mode that truly makes Renegade shine head and shoulders above a lot of other shooters from the same era and is ultimately the reason why fans continue to play it today!
What events are going on?
Over the course of this week we will be rallying players to come and join us in playing specific games over the course of the week! Starting with Renegade we will also be playing games that are derivatives of the original; such as the popular remake, Renegade X, the Red Alert-inspired total conversion, Red Alert: A Path Beyond, the Tiberian Sun-inspired total conversion, Tiberian Sun: Reborn and also the extensive Renegade expansion mod, Interim Apex!
On top of this, we will also have gameplay streams and other events going on across Twitch throughout the week, so if you want to tune in to some Renegade content, be sure to check out the list of streams here: https://cnc.community/cnc-streamers?gameName=renegade
A full schedule of Twitch streams might be posted at a later date if we can get it together, but for now, you can grab the list of currently active Renegade streams at the link above.
As for the schedule of what games are being played on what days, check out our game-night schedule below! The game nights will generally be kicking off every night at 8PM GMT, so feel free to join in on the fun!
How can I take part?
You can take part in the event and join the games we have planned very easily!
Check out our handy guide on how to get Renegade installed in order to participate in the games we'll be running across this week! You can find that here: https://cnc.community/renegade/how-to-play
As for where we will all be gathering, please feel free to join us on our official Discord server for the event! You can join it here: https://discord.gg/TTnPNrtug3
Hope to see you all there! Keep 'em coming!